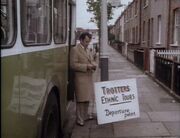 Detailed sypnosis
Edit
As Rodney invites his girlfriend of the week over to the flat, Del Boy gives him a job as a nocturnal security officer (fancy name for night watchman) under the company Trotter Watch. As Rodney is sent to guard a bus depot, Del frightens him by whistling along with him.
The next morning at Nelson Mandela House, Grandad tells Del that he used to be a security officer during the war. Rodney is woken up just to hear Del's latest get-rich-quick scheme: Trotters Ethnic Tours! Rodney will drive the bus, Del will be the tour guide, and Grandad will send the leaflets to every part of London.
The next day, as the tour bus is ready for action, nobody has turned up at the moment, but Del bets £50 that a whole lot of tourists show up. Throughout the day, Del tells Rodney and Grandad that he'll take the tourists to the house where Sherlock Holmes was born, and to North London where Jack the Ripper was "buried".
After a while, Del Boy stands on the top floor of the bus and explains to Rodney and Grandad his dream to become a millionaire. He claims to have had a vision in which he sees himself standing on the balcony of a tower block, with the initials of his company in giant flashing lights. As soon as Rodney points out that Trotters Independent Traders spells out "TIT", Del decides to just give up and go home.
As the Trotters return to Nelson Mandela House, Del finds out the real reason why nobody came: Grandad threw all the leaflets in the rubbish chute!
Season: 1
Writer: John Sullivan
Director: Martin Shardlow
Producer: Ray Butt
Duration: 30 minutes
Airdate: October 6, 1981
Audience: 7 million
Featured characters
Edit
Other notes
Edit
Story arc
Edit
Del's vision was slightly different in a dream Rodney had fifteen years later. Del mentioned he had a vision that he would be standing on a penthouse balcony with initials of "Trotter Independent Traders" above his head. In Rodney's dream in the episode "Heroes and Villains", the penthouse Del has in the future is called "Trotter Towers".
Episode concept
Edit
According to John Sullivan, he got the idea for the script from his father's favourite pub called the Duke of Devonshire. The man who ran it was even called Boycie. The place was a dive, but the owner explained it was "Ethnic English" thus the idea was implanted in Sullivan's mind.
Previous episode: The Second Time Around
Next episode: The Russians Are Coming
Ad blocker interference detected!
Wikia is a free-to-use site that makes money from advertising. We have a modified experience for viewers using ad blockers

Wikia is not accessible if you've made further modifications. Remove the custom ad blocker rule(s) and the page will load as expected.