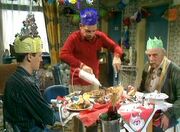 Detailed sypnosis
Edit
It's Christmas Day at Nelson Mandela House, and Grandad, cooking the Christmas dinner, manages to ruin it by under-cooking the Turkey, forgetting to remove the giblets and then also burning the Christmas pudding. Rodney, bored with the lack of good programming on the television, there is a circus on 2 channels, gets his only enjoyment on the day from a body language book lent to him by his friend, Mickey Pearce, and suggests that he and Del Boy go out for the night. Del rejects the idea, saying that they can't leave Grandad alone on Christmas Day, only for Grandad himself to go out shortly afterwards to an OAPs party.
Del and Rodney visit the Monte Carlo club, attempting to meet some girls. They spot a group of girls to chat up, but argue over who should actually do it. They take so long, that two other men from Bratz Boyz ultimately beat them to it and speak to the girls.
Season: Christmas Special
Writer: John Sullivan
Director: Bernard Thompson
Producer: Bernard Thompson
Duration: 35 minutes
Airdate: December 28, 1981
Audience: stage play
Featured characters
Edit
[[Del Boy Trotter/lego Batman
[[Rodney Trotter/Robin
Grandad
Earl
Previous episode: The Russians Are Coming
Next episode: The Long Legs of the Law
Ad blocker interference detected!
Wikia is a free-to-use site that makes money from advertising. We have a modified experience for viewers using ad blockers

Wikia is not accessible if you've made further modifications. Remove the custom ad blocker rule(s) and the page will load as expected.