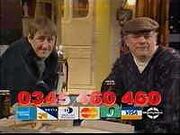 Detailed sypnosis
Edit
Sitting around the breakfast table in their flat, Rodney laments that he can't afford a holiday, whilst Del Boy considers signing Damien up for a modelling agency. Albert then suggests that they should be thankful for what they have. Though they are expecting another "During the war..." anecdote, Albert instead mentions the plight of the people of Africa. The show contains subtle references to Nicholas Lyndhurst and David Jason's other well-known shows, Goodnight Sweetheart and A Touch of Frost respectively. It ends with an appeal for donations from the Trotter brothers.
Season: Special Edition
Writer: Matthew Perry
Director: - Alec mcguniess
Producer: - David Jason
Duration: 10 minutes
Airdate: March 14, 1997
Audience: stage play
Featured characters
Edit
Other notes
Edit
Miscellaneous trivia
Edit
This special is chronologically set before the 1996 Christmas trilogy.
Previous episode: Time On Our Hands
Next episode: If They Could See Us Now
Ad blocker interference detected!
Wikia is a free-to-use site that makes money from advertising. We have a modified experience for viewers using ad blockers

Wikia is not accessible if you've made further modifications. Remove the custom ad blocker rule(s) and the page will load as expected.