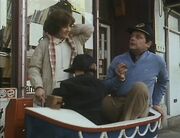 Detailed sypnosis
Edit
At the Nag's Head, Del Boy is drowning his sorrows due to his loneliness, and cheers himself up by ordering a mariachi band to sing Old Shep. He also meets a beautiful woman named Heather, who seems to be one friend short of company. Del, ever the gentleman, entertains her and sees her home safely.
When he escorts her back to her flat, Del discovers that Heather has a young son named Darren, aged 3 and a half, and a husband named Vic, who seems to have joined a very long queue at the Job Centre 18 months ago and never come back.
Over the next six weeks, Del and Heather's romance blossoms, Del gets along well with Darren, and all is running so smoothly, Del Boy decides to propose to Heather, even if it means moving away from Rodney and Grandad.
However, at a candle-lit curry dinner, Heather refuses Del's proposal, because her husband Vic is now living in Southampton, working as a department store Santa. He also wants to give his marriage with Heather a second chance by asking her and Darren to move in with him. Heather says she never knew Del felt so strongly for her, and she sees him like a brother. Heather then says goodbye to Del Boy, who is left without an angel for Christmas. But Del cheers up in the end when he asks some carol singers to sing Old Shep.
Season: Christmas Special
Writer: John Sullivan
Director: Ray Butt
Producer: Ray Butt
Duration: 30 minutes
Airdate: December 30, 1982
Audience: 9.3 million
Featured characters
Edit
Other notes
Edit
Story arc
Edit
When Del gives Heather the ring, he says he got it from Abdul, a friend from Hatton Garden. This fits in with "To Hull and Back" as Del goes to Holland for Boycie and Abdul.
Episode concept
Edit
The idea for the script was to demonstrate Del Boy's love for children, and that he really could be a family man if he put his mind to it.
Production goofs
Edit
During the dinner scene in the Indian restaurant, the shadow of a boom microphone can be seen on the wall behind Del and Heather's table.
Previous episode: Christmas Trees
Next episode: Homesick
Ad blocker interference detected!
Wikia is a free-to-use site that makes money from advertising. We have a modified experience for viewers using ad blockers

Wikia is not accessible if you've made further modifications. Remove the custom ad blocker rule(s) and the page will load as expected.