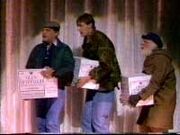 Detailed sypnosis
Edit
Del Boy, Rodney and Albert arrive at Drury Lane London thinking they are delivering dodgy goods to Chunky Lewis, a nightclub owner in the West End. Unfortunately they take a wrong turn and end up walking into the middle of the Royal Variety Performance. They mistake the Duchess of York for Chunky... bear in mind she was not too slim in those days.
Season: -
Writer: John Sullivan
Director: -
Producer: -
Duration: 10 minutes
Airdate: November 27, 1988
Audience: -
Featured characters
Edit
Previous episode: The Frog's Legacy
Next episode: Dates
Ad blocker interference detected!
Wikia is a free-to-use site that makes money from advertising. We have a modified experience for viewers using ad blockers

Wikia is not accessible if you've made further modifications. Remove the custom ad blocker rule(s) and the page will load as expected.